The Middle-Region College of Law organized the Conference of Officials and Employees in 2021
SATurday - 25/12/2021 10:00
On December 24, the Middle-Region College of Law (MRCL) organized the Conference of Officials and Employees in 2021. Attending the Conference were Mr. Vo Khac Hoan - Secretary of the College's Party Committee - Acting Rector of the College, officials and employees of the College.
At the conference, the delegates actively discussed and proposed solutions on MRCL's development. The Presidium acknowledged the opinions and had clear answers to difficulties and concerns of all officials, employees.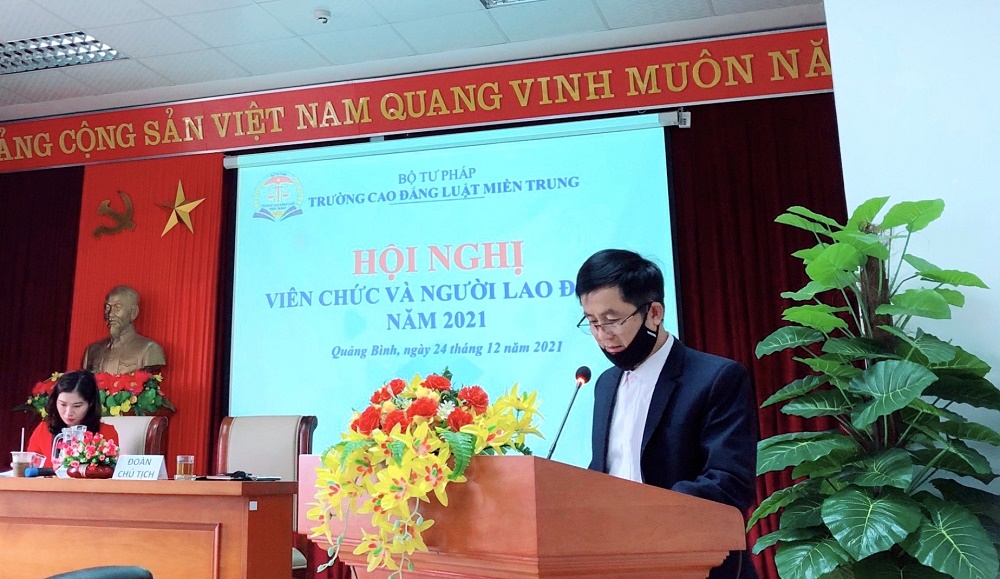 Also at the Conference, Mr. Vo Khac Hoan praised and upheld the spirit of internal solidarity and promoted the democracy of the College's collective. These are significant factors determining the successful completion of political tasks assigned by the Ministry's leadership. In particular, he emphasized a number of solutions to well perform the tasks in 2022,: continuing to promote spirit of solidarity, overcoming difficulties to successfully fulfill its tasks and build the College more and more strongly; managing system and organizational structure was completed; the number and quality of teachers and officials will be increasingly improved; innovating scientific research methods; creating motivation, promoting responsibility and positivity in all activities of officials and employees; the material and spiritual life of staffs will be paid more attention, etc.,
The conference of officials and employees in 2021 took place successfully.
Author: Le Khanh
Dong Hoi Junior Law College's
Online: 0
Today: 18
This month: 183
Total: 204163