Congratulations to 43rd Laos Independence Day (December 12, 1975 - December 2, 1818)
WEDnesday - 12/12/2018 16:22
On November 30th, Mr. Vo Khac Hoan - The president of the DHJLC's delegation to the Lao Embassy in Da Nang congratulated the 43rd National Day of the Lao People's Democratic Republic at Lao Embasssy in Da Nang (02/12/1975 - 02/12/12) 2018).
At the ceremony, Mr. Vo Khac Hoan sent the best congratulations to Lao Party, Government and the people on the great achievements for the past 43 years in the building and developing progress of the country.
On this occasion, the DHJLC congratulated to Mr. Viengxay Phommachanh, who has just been assigned to be the Consul General of the Laotian Consulate General in Da Nang. At the same time, through the Lao PDR Consulate General in Da Nang, the delegation handed over the gift from the collective contribution of officials and teachers of DHJLC to the Lao people whom seriously damaged by the disaster of Xepian-Nam Noy hydropower dam in Southern Laos with the amount of VND10,000,000 (ten million dong) and 50 T-shirts.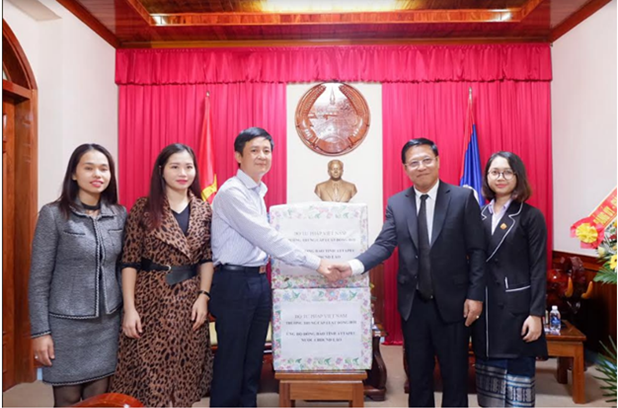 Representing Laotian Consulate General in Da Nang, Mr. Viengxay Phommachanh expressed his heartfelt thanks to the staffs and teachers of the school and also expressed his deep gratitudes to the DHJLC for supporting the people of Attapeu province. At the same time, they highly appreciated the achievements in the training and teaching of the school in recent years and proposed school to continue improving the quality as well as create conditions for Laos students to study in the school. He affirmed that Laotian Consulate General in Da Nang will continue to work closely with the school to further promote the traditional friendship, special solidarity and comprehensive cooperation between the Laos and Vietnam./.
Author: Linh Trang
Dong Hoi Junior Law College's
Online: 0
Today: 55
This month: 744
Total: 204724