Laos National Day 41st anniversary in Dong Hoi Junior Law College(Feb 12,1975 - Feb 12, 2016).
MONday - 05/12/2016 08:53
On February 12th, 2016, Dong Hoi Junior Law College held a meeting for Laotian students studying in the junior college on the occasion of 41 year anniversary of the Laos National Day (Feb 12,1975 - Feb 12, 2016). Attending the ceremony, there were Mr. Hoan Vo Khac, Deputy Secretary, Vice Rector, Representatives of the Department, Faculty and all Laotian students who are studying at the junior college.
As a country has experienced a thousands of years history, with many of the resistance against the invaders, built and developed the country. Promoting the precious tradition, under the leadership of the Lao People's Revolutionary Party, Laotian people stood up and won the fight for national liberation, found Laos. The February 12th, 1975 became the great victory in the history of the national liberation struggle, the day that all Laotian people could be proud of, the day that the world recognized the independence of Laos and the day that marked a new page of peace, independence, democracy, unity and prosperity.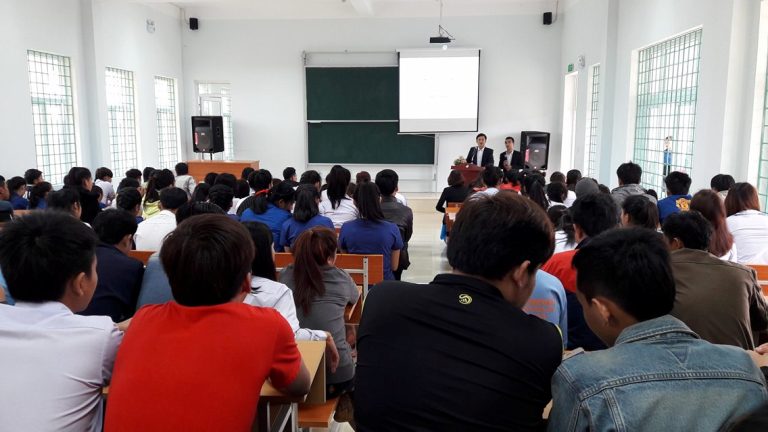 Mr. Hoan Vo Khac – Vice Rector spoke at the ceremony
On congratulating Laotian people in general and Laotian students studying in DHJLC in particular, MA. Hoan Vo Khac, Vice Rector affirmed: "The relationship of friendship, tradition, special solidarity and comprehensive cooperation between Vietnam - Laos has become a model, faithful international relations and a common precious property of two nations. Training human resources for Laos is one of the most important requirements in the context of comprehensive cooperation between the two countries, providing Laos with high quality human resources in accordance with the new requirements. Mr. Hoan Vo Khac also hoped that Laotian students try their best in learning and practicing in order to build a richer and stronger Laos, contributing to the friendship between Vietnam - Laos.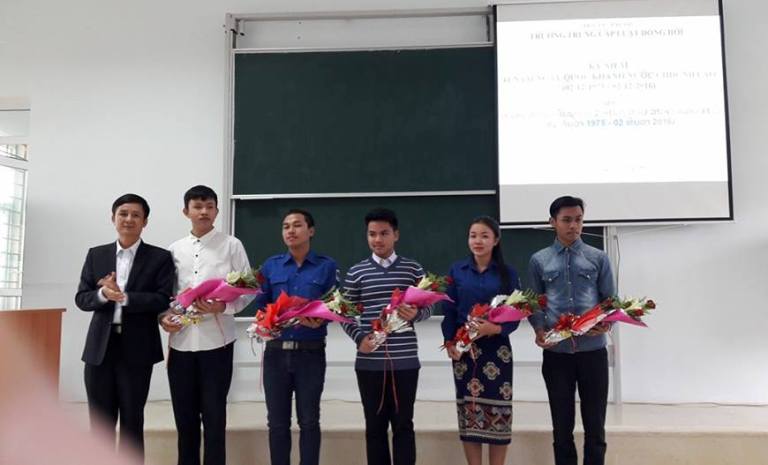 Mr. Hoan Vo Khac - Vice Rector presented flowers to congratulate Laotian students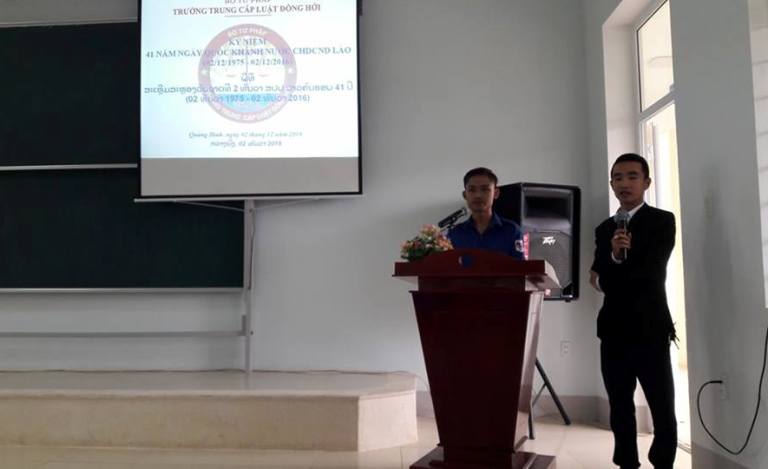 Laotian student representatives spoke at the ceremony
Also at the ceremony, Laotian student representatives retold the heroic history, revolutionary traditions of their country and to thank the attention and encouragement of teachers, especially the Board of Management for providing the best conditions for them to study in Dong Hoi Junior Law College.
Author: Linh Trang
Key:
on february, 12th 2016, dong hoi, junior law, college held, meeting for, laotian students, studying in, the junior, college on, the occasion, of 41, year anniversary, of the, laos national, day feb, 12, 1975 feb, 12 2016, attending the, ceremony there, were mr, hoan vo, khac deputy, secretary vice, rector representatives, department faculty, and all, who are
Dong Hoi Junior Law College's
Online: 49
Guest: 47
Search engine: 2
Today: 34
This month: 147
Total: 204127